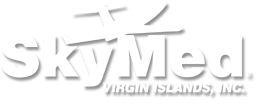 SKYMED Members Speak
Lorena Daniel
St. Croix USVI
member since 2004 – air evac $20K from St Croix to Miami. She just had the basic membership plan which is usually to Puerto Rico. However, there was not only no hospital beds available at a Puerto Rico hospital, but there was no specialty doctor available either. They needed a vascular surgeon. The daughter Natasha had this to say, " To Nan, Jim and John, I want to first start off by saying thank you to the wonderful people at SkyMed. You guys are a good example of excellent customer service. Jim Edwards, you are the best. On Wednesday July 2, 2014 my mom was airlifted out of St Croix to Miami, Florida. SkyMed was there every step of the way, from getting her to Miami and back to St Croix. SkyMed worked so hard and got her back home. We sincerely appreciate that. Jim kept me calm by reassuring me everything will be fine, and SkyMed will take care of your mom because we are family. And he did just that. You guys went above and beyond to make us feel at ease. We want to tell you guys Nan, Jim and John. Thank you. I love you guys, you are truly the greatest. Thank you, thank you, thank you from the bottom of our hearts, the Daniel Family". This was a second service in several years that SkyMed had performed for this family.
Since then, the other daughter Janice Daniel upgraded her own plan to Florida from Puerto Rico.
---
Ikema Barry
St. Croix USVI
We did an air evac from St Croix to Florida ($17K) Paid return trip commercial air as well. Member said, " My name is Keosha and on May 17 my husband Ikema had to be airlifted from St Croix to West Palm Beach, after suffering critical injuries to his neck and brain.The members of SkyMed showed me so much support and made our transition easy. Thank you so much."
---
Amaya Edward
St. Croix USVI
In January 2014–For Child Amaya Edward and mother LaVerne, SkyMed paid commercial air to Orlando, Florida. $700. Ms. Edward was appreciative of the fact that SkyMed would pay for this commercial air ticket from St Croix to Orlando. Her daughter needed a specialist that was not available in the USVI. She had found one in Orlando and made the appointment. She said Jim Edwards guided her through the whole scenario, and the round trip ticket was booked. She thought this was awesome this service was provided. Shortly after that her sister signed up for one of our plans.
---
Rodney Kidd
St. Croix USVI
In January 2014: We did a commercial air assist for Rodney Kidd. He woke up almost blind; went to the local eye doctor who diagnosed him with a detached retina. He was told the procedure could not be performed here. Lucky enough SkyMed was able to put him on American Airlines that afternoon and he was at the Bascom Palmer Eye Institute in Miami by 7:00 pm that night having the procedure done. We also paid his return trip home with an escort. In the words of his escort Danny Jean Baptiste – " I must say the service was definitely on point. Everything went smoothly and right on time, no delays…fast responses….from getting a quick appointment at the Bascom Palmer in Miami, and American having some seats available. We were at Bascom Palmer same day 7:00 pm. I love SkyMed. I am going to apply for it myself. The way I saw you guys respond when Mr. Kidd needed it the most, was just unbelievable. I would definitely recommend SkyMed to everyone out there." Saved the member about $700.
---
Larry Malanga
St. Croix USVI
"Thank you to the staff of SkyMed. Thank you to Linda Bruton for securing our SkyMed family Membership . Thank you Jim Edwards in Arizona for his professionalism and for keeping in constant contact and calling back when he said he would.
Thank you to the flight crew for their care and comfort during this emergency. I have and will continue to encourage friends and family to invest in this very important air evacuation membership plan.
Thank you all for the follow-up calls and concerns for my wife's welfare. She continues on the road to good recovery."
---
David Claeys
St. Croix USVI
"I can't thank the Skymed team enough for their service. My family of seven has had three major health problems in just one year. SkyMed has stood with us during this difficult time. They have done everything they promised and more. You are NOT just another client with this company, they actually care for you and your family. We can't thank Jim and his SkyMed team enough for the exceptional care that they provided."
---
Officer Fernando Irizarry
St. Croix USVI
Officer Fernando Irizarry, of St. Croix, USVI, was shot in the calf, and was rushed to the local hospital for immediate surgery. When complications arose further medical care was sought in Puerto Rico for Officer Irizarry. The surgery he needed was not available in Puerto Rico, and instead Officer Irizarry was flown to Jackson Memorial, in Miami, FL.
Ms. Colon said, "Even though we had the basic plan for Puerto Rico, SkyMed did not charge extra to move Fernando to a Florida hospital. Three months and and ten surgeries later SkyMed flew us back first class to St. Croix. During this whole crisis we were treated like royalty with lots of compassion. We highly recommend SkyMed membership"
---
Paul, Audrey & Jr. Williams
Short-Term Travelers
While holidaying at their timeshare in Cancun, Mexico, Paul and Audrey Williams faced the incredible dilemma of any traveling family; their 5-year old son, Paul Jr., was faced with a critical illness, which demanded young Paul's immediate repatriation to their home medical care providers in Maryland. Within a matter hours, SkyMed dispatched a medically-equipped and staffed jet to return the Williams family home.
In a telephone call to SkyMed President Will Klein, Mr. Williams expressed their gratitude and asked for applications to share with family and friends. He said, "When I relate what SkyMed did for us, my friends are stunned that such a service is available. They raise their eyebrows when I tell them SkyMed took us home on a jet. It is almost as though they don't believe it!" Mr. Williams added, "Everybody who travels has to know about SkyMed."
---
Jane Ann St. Hall
St. Croix, USVI
"I am extremely thankful for all the help and support that I received from SkyMed. My daughter Kelise St. Hall would not be alive today if it had not been for my SkyMed memberhip."
"SkyMed has proven to be a dependable and trustworthy company."
---
Jokasta Geigel
St. Thomas, USVI
"A pitbull attacked and bit my daughter Caroline. Her left eye was wounded, and my left arm was bitten. I would say if it wasn't for SkyMed my daughter would be blind today."
"I am sure glad I chose SkyMed as my air ambulance plan."
---
Claudia Carrington
St. Croix, USVI
As told by husband Roger. Claudia was rushed by ambulance to Juan Luis Hospital. She had a stroke, (brain bleed), and treatment could not be provided by the JLH hospital. She needed to be flown off island. Arrangements were made and we were both flown to Miami where she was admitted to Jackson Memorial Hospital for emergency treatment. We only had the plan to Puerto Rico but they took us RIGHT to Miami at NO Extra cost since no neurosurgeon available in Puerto Rico or no beds available.
SkyMed provided immediate service in our life and death situation. When I made contact with SkyMed, it was a calming experience that helped bring the situation under control. I was impressed with the competence of the Acute Air Ambulance service that was provided. There was a nurse, 2 trauma technicians, pilot, co-pilot and me in flight to Miami. A ground ambulance was waiting when we landed in Miami. SkyMed is the Professional necessary in an emergency. They paid our return trip back home to St Croix.